I installed a new theme Sublime Text 3 only for files icons in the sidebar. But in fact it is not so rosy. For example: It should be gulp icon,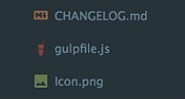 .
but there is icon of simple js file
For .sass or .scss file at all there are default icons, i.e. sublime doesn't understand this file types.
Main Trouble is that I specifically downloaded the clean portable version, and even it does not work.
And indeed there are inconsistencies with many icons.
And the same problem is present in all themes.
What could be the problem?