I am seeing this in sublime text: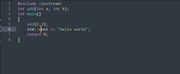 And I want something similar to this: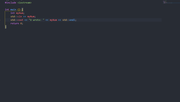 In Sublime text Documentation, I saw there are scopes for namespace such as entity.name.namespace, meta.path and meta.namespace. But when I create my own new color scheme where I have used nothing but entity.name.namespace scope, I saw that nothing changed. And I downloaded some syntax definition for c++, but they use function definition for std::cout and this is not what I want. That's why I think that there is something wrong in c++.sublime-syntax file in sublime text.
BTW I'm using sublime text 4.
---