I keep getting a message on startup from Package Control. Package Control installing 1 dependency and suggesting a restart.
OS: OSX Ventura 13.1
CPU: Apple M1 Ultra
Sublime Text: Build 4143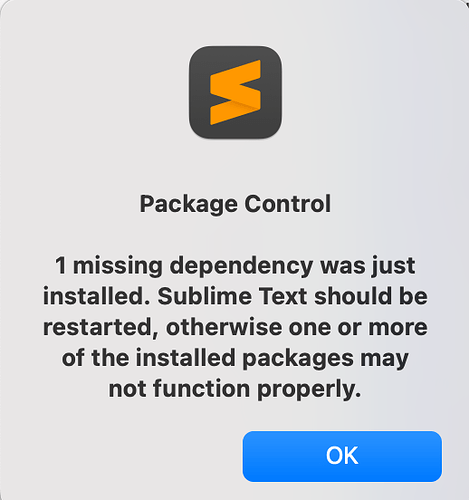 Console:
Package Control: Installing 1 missing dependency
Package Control: The dependency "psutil" is either not available on this platform or for this version of Sublime Text
Package Control: Installed missing dependency psutil
Package Control: Skipping automatic upgrade, last run at 2023-01-26 10:04:54, next run at 2023-01-26 11:04:54 or after
error: Package Control

1 missing dependency was just installed. Sublime Text should be restarted, otherwise one or more of the installed packages may not function properly.