Hi folks,
I am a newbie in sublime plugin development.
I am trying to develop a teradata sql tool plugin by leveraging pyodbc, stuff like this and then parse the sql result in sublime window
import pyodbc 
conn = pyodbc.connect(driver,DBCName, database, uid,pwd)
cursor = conn.cursor()
cursor.execute("select * from table")

After pip install pyodbc, I can run import pyodbc in cmd environment with no problem.

Since where pyodbc installed is in sys.path and python recognize that location
However, in "sublime python" (the python cmd after type ctrl+`), even though I install here

and this path is in sys.path, I still can't import pyodbc.
I also try to create a dummy python file called test38 here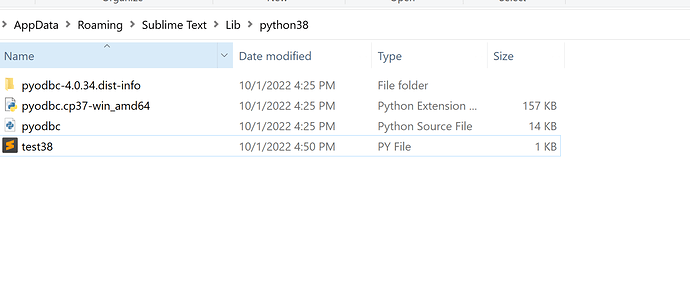 and in above screenshot, we can see test38.py can be imported.
So does pyodbc with .pyd file extension can't be import in sublime plugin development or do I miss something here?
Thank y'all so much for the help!