I use both Windows and Mac versions of Sublime Merge. I've installed SSH keys on both machines and they function almost identically, but my Windows version of Sublime Merge doesn't remember my SSH Key Passphrase. I have to enter it each time I perform any command: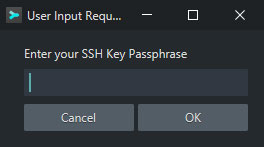 How can I get Sublime Merge in Windows to remember my SSH password? The only thing I found in Preferences that remotely resembles that feature is SSH Path, which points to
C:\Windows\System32\OpenSSH\ssh.exe … Does that have something to do with it?