Hi,
i'm currently trying the latest unregistred version of Sublime Merge (Stable build 2059) on Windows 10.
Repository setup and pulling works fine as expected.
The only problem that occurs is this: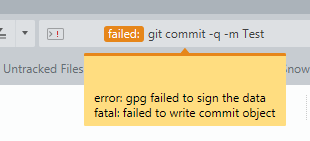 When i try to commit something this error appears.
I don't want to rule out a mistake on my part, but it works fine when tested with Sourcetree. In this case the pinentry dialog prompt me for the key-password.
Or might it be a bug in Sublime Merge because it works fine with other tools with default settings?
Thanks in advance and best regards!