CSS named color completions make web design color coding easy. Named color completions must be configured, as they are not built into ST3. Duplicate completions can occur, but should be avoided. There are at least 2 ways to configure the completions.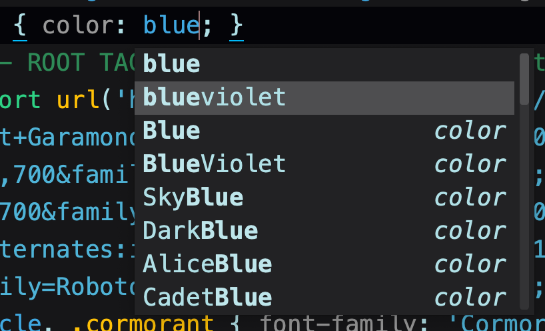 Named colors (W3 Schools) can be added to ST3 by using an 8-year-old plugin, SublimeWebColors. Above, "color" items are marked by SublimeWebColors.
For those who prefer fresh, CSS color completions can be added to the CSS resource in Sublime Text 3 using the Package​Resource​Viewer plugin.
Mac cmd-shft-p › PackageResourceViewer: Open Resource › CSS › css_completions.py and add some scope data shown below. However, if SublimeWebColors plugin and css_completions.py edit are both used, then every named color appears twice in the completion popups.
For years, I have added the following 'color' and 'background-color' scopes to
css_completions.py preferring lower case (aliceblue), though mixed case (AliceBlue) also works.
Keep scope (if it exists - if not, add it too)
'color': ['currentColor', 'rgb($1)', 'rgba($1)', 'hsl($1)', 'hsla($1)', 'transparent'],
Add lower case scope (match formatting found in css_completions.py)
'background-color': [ "aliceblue", "antiquewhite", "aqua", "aquamarine", "azure", "beige", "bisque", "black", "blanchedalmond", "blue", "blueviolet", "brown", "burlywood", "cadetblue", "chartreuse", "chocolate", "coral", "cornflowerblue", "cornsilk", "crimson", "cyan", "darkblue", "darkcyan", "darkgoldenrod", "darkgray", "darkgreen", "darkgrey", "darkkhaki", "darkmagenta", "darkolivegreen", "darkorange", "darkorchid", "darkred", "darksalmon", "darkseagreen", "darkslateblue", "darkslategray", "darkslategrey", "darkturquoise", "darkviolet", "deeppink", "deepskyblue", "dimgray", "dimgrey", "dodgerblue", "firebrick", "floralwhite", "forestgreen", "fuchsia", "gainsboro", "ghostwhite", "gold", "goldenrod", "gray", "green", "greenyellow", "grey", "honeydew", "hotpink", "indianred", "indigo", "ivory", "khaki", "lavender", "lavenderblush", "lawngreen", "lemonchiffon", "lightblue", "lightcoral", "lightcyan", "lightgoldenrodyellow", "lightgray", "lightgreen", "lightgrey", "lightpink", "lightsalmon", "lightseagreen", "lightskyblue", "lightslategray", "lightslategrey", "lightsteelblue", "lightyellow", "lime", "limegreen", "linen", "magenta", "maroon", "mediumaquamarine", "mediumblue", "mediumorchid", "mediumpurple", "mediumseagreen", "mediumslateblue", "mediumspringgreen", "mediumturquoise", "mediumvioletred", "midnightblue", "mintcream", "mistyrose", "moccasin", "navajowhite", "navy", "oldlace", "olive", "olivedrab", "orange", "orangered", "orchid", "palegoldenrod", "palegreen", "paleturquoise", "palevioletred", "papayawhip", "peachpuff", "peru", "pink", "plum", "powderblue", "purple", "rebeccapurple", "red", "rosybrown", "royalblue", "saddlebrown", "salmon", "sandybrown", "seagreen", "seashell", "sienna", "silver", "skyblue", "slateblue", "slategray", "slategrey", "snow", "springgreen", "steelblue", "tan", "teal", "thistle", "tomato", "transparent", "turquoise", "violet", "wheat", "white", "whitesmoke", "yellow", "yellowgreen", ],
Add lower case scope (match formatting found in css_completions.py)
'color': [ "aliceblue", "antiquewhite", "aqua", "aquamarine", "azure", "beige", "bisque", "black", "blanchedalmond", "blue", "blueviolet", "brown", "burlywood", "cadetblue", "chartreuse", "chocolate", "coral", "cornflowerblue", "cornsilk", "crimson", "cyan", "darkblue", "darkcyan", "darkgoldenrod", "darkgray", "darkgreen", "darkgrey", "darkkhaki", "darkmagenta", "darkolivegreen", "darkorange", "darkorchid", "darkred", "darksalmon", "darkseagreen", "darkslateblue", "darkslategray", "darkslategrey", "darkturquoise", "darkviolet", "deeppink", "deepskyblue", "dimgray", "dimgrey", "dodgerblue", "firebrick", "floralwhite", "forestgreen", "fuchsia", "gainsboro", "ghostwhite", "gold", "goldenrod", "gray", "green", "greenyellow", "grey", "honeydew", "hotpink", "indianred", "indigo", "ivory", "khaki", "lavender", "lavenderblush", "lawngreen", "lemonchiffon", "lightblue", "lightcoral", "lightcyan", "lightgoldenrodyellow", "lightgray", "lightgreen", "lightgrey", "lightpink", "lightsalmon", "lightseagreen", "lightskyblue", "lightslategray", "lightslategrey", "lightsteelblue", "lightyellow", "lime", "limegreen", "linen", "magenta", "maroon", "mediumaquamarine", "mediumblue", "mediumorchid", "mediumpurple", "mediumseagreen", "mediumslateblue", "mediumspringgreen", "mediumturquoise", "mediumvioletred", "midnightblue", "mintcream", "mistyrose", "moccasin", "navajowhite", "navy", "oldlace", "olive", "olivedrab", "orange", "orangered", "orchid", "palegoldenrod", "palegreen", "paleturquoise", "palevioletred", "papayawhip", "peachpuff", "peru", "pink", "plum", "powderblue", "purple", "rebeccapurple", "red", "rosybrown", "royalblue", "saddlebrown", "salmon", "sandybrown", "seagreen", "seashell", "sienna", "silver", "skyblue", "slateblue", "slategray", "slategrey", "snow", "springgreen", "steelblue", "tan", "teal", "thistle", "tomato", "transparent", "turquoise", "violet", "wheat", "white", "whitesmoke", "yellow", "yellowgreen", ],