When I search in the command palette "Package Control: ", nothing shows up, while i have package control installed.
Then I found here that you are supposed to remove package control from your ignored_packages, but it was never there.
After that I read that I should look in the console for lines starting with "Package Control" and then I should enable the debug.log by going to Preferences>Package Settings>Package Control>Settings - User and then add the setting: "debug": true
But I can't open the Settings - User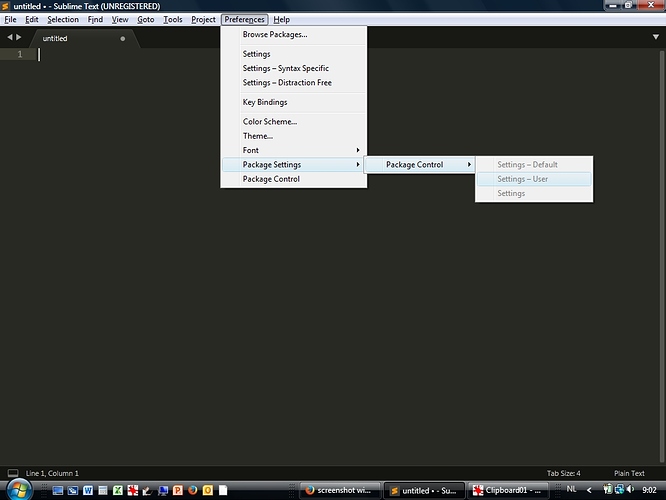 So now I don't know what to do anymore. I also tried al the other methods at the packagecontrol.io troubleshooting page, they didn't work either. So here is my entire console.
DPI mode: system
DPI scale: 1
startup, version: 3211 windows x32 channel: stable
executable: /C/Program Files/Sublime Text 3/sublime_text.exe
working dir: /C/Program Files/Sublime Text 3
packages path: /C/Users/gerda/AppData/Roaming/Sublime Text 3/Packages
state path: /C/Users/gerda/AppData/Roaming/Sublime Text 3/Local
zip path: /C/Program Files/Sublime Text 3/Packages
zip path: /C/Users/gerda/AppData/Roaming/Sublime Text 3/Installed Packages
ignored_packages: ["Vintage"]
pre session restore time: 0.502
startup time: 0.616
first paint time: 0.637
reloading plugin Default.arithmetic
reloading plugin Default.auto_indent_tag
reloading plugin Default.block
reloading plugin Default.colors
reloading plugin Default.comment
reloading plugin Default.convert_color_scheme
reloading plugin Default.convert_syntax
reloading plugin Default.copy_path
reloading plugin Default.detect_indentation
reloading plugin Default.echo
reloading plugin Default.exec
reloading plugin Default.fold
reloading plugin Default.font
reloading plugin Default.goto_line
reloading plugin Default.history_list
reloading plugin Default.indentation
reloading plugin Default.install_package_control
reloading plugin Default.kill_ring
reloading plugin Default.mark
reloading plugin Default.new_templates
reloading plugin Default.open_context_url
reloading plugin Default.open_in_browser
reloading plugin Default.pane
reloading plugin Default.paragraph
reloading plugin Default.paste_from_history
reloading plugin Default.profile
reloading plugin Default.quick_panel
reloading plugin Default.rename
reloading plugin Default.run_syntax_tests
reloading plugin Default.save_on_focus_lost
reloading plugin Default.scroll
reloading plugin Default.set_unsaved_view_name
reloading plugin Default.settings
reloading plugin Default.show_scope_name
reloading plugin Default.side_bar
reloading plugin Default.sort
reloading plugin Default.switch_file
reloading plugin Default.symbol
reloading plugin Default.transform
reloading plugin Default.transpose
reloading plugin Default.ui
reloading plugin CSS.css_completions
reloading plugin Diff.diff
reloading plugin HTML.encode_html_entities
reloading plugin HTML.html_completions
reloading plugin ShellScript.ShellScript
reloading plugin Package Control.1_reloader
reloading plugin Package Control.2_bootstrap
Traceback (most recent call last):
File "C:\Users\gerda\AppData\Roaming\Sublime Text 3\Installed Packages\Package Control.sublime-package\package_control/deps/oscrypto/_win/_cng_ctypes.py", line 143, in
File "./python3.3/ctypes/init.py", line 366, in getattr
File "./python3.3/ctypes/init.py", line 371, in getitem
AttributeError: function 'BCryptDeriveKeyPBKDF2' not found
During handling of the above exception, another exception occurred:
Traceback (most recent call last):
File "C:\Program Files\Sublime Text 3\sublime_plugin.py", line 125, in reload_plugin
m = importlib.import_module(modulename)
File "./python3.3/importlib/init.py", line 90, in import_module
File "", line 1584, in _gcd_import
File "", line 1565, in _find_and_load
File "", line 1532, in _find_and_load_unlocked
File "C:\Program Files\Sublime Text 3\sublime_plugin.py", line 1199, in load_module
exec(compile(source, source_path, 'exec'), mod.dict)
File "C:\Users\gerda\AppData\Roaming\Sublime Text 3\Installed Packages\Package Control.sublime-package\2_bootstrap.py", line 26, in
File "", line 1565, in _find_and_load
File "", line 1532, in _find_and_load_unlocked
File "C:\Program Files\Sublime Text 3\sublime_plugin.py", line 1199, in load_module
exec(compile(source, source_path, 'exec'), mod.dict)
File "C:\Users\gerda\AppData\Roaming\Sublime Text 3\Installed Packages\Package Control.sublime-package\package_control/bootstrap.py", line 20, in
File "", line 1565, in _find_and_load
File "", line 1532, in _find_and_load_unlocked
File "C:\Program Files\Sublime Text 3\sublime_plugin.py", line 1199, in load_module
exec(compile(source, source_path, 'exec'), mod.dict)
File "C:\Users\gerda\AppData\Roaming\Sublime Text 3\Installed Packages\Package Control.sublime-package\package_control/download_manager.py", line 24, in
File "", line 1565, in _find_and_load
File "", line 1532, in _find_and_load_unlocked
File "C:\Program Files\Sublime Text 3\sublime_plugin.py", line 1199, in load_module
exec(compile(source, source_path, 'exec'), mod.dict)
File "C:\Users\gerda\AppData\Roaming\Sublime Text 3\Installed Packages\Package Control.sublime-package\package_control/downloaders/init.py", line 20, in
File "", line 1565, in _find_and_load
File "", line 1532, in _find_and_load_unlocked
File "C:\Program Files\Sublime Text 3\sublime_plugin.py", line 1199, in load_module
exec(compile(source, source_path, 'exec'), mod.dict)
File "C:\Users\gerda\AppData\Roaming\Sublime Text 3\Installed Packages\Package Control.sublime-package\package_control/downloaders/oscrypto_downloader.py", line 44, in
File "", line 1565, in _find_and_load
File "", line 1532, in _find_and_load_unlocked
File "C:\Program Files\Sublime Text 3\sublime_plugin.py", line 1199, in load_module
exec(compile(source, source_path, 'exec'), mod.dict)
File "C:\Users\gerda\AppData\Roaming\Sublime Text 3\Installed Packages\Package Control.sublime-package\package_control/deps/oscrypto/tls.py", line 17, in
File "", line 1565, in _find_and_load
File "", line 1532, in _find_and_load_unlocked
File "C:\Program Files\Sublime Text 3\sublime_plugin.py", line 1199, in load_module
exec(compile(source, source_path, 'exec'), mod.dict)
File "C:\Users\gerda\AppData\Roaming\Sublime Text 3\Installed Packages\Package Control.sublime-package\package_control/deps/oscrypto/_win/tls.py", line 54, in
File "", line 1565, in _find_and_load
File "", line 1532, in _find_and_load_unlocked
File "C:\Program Files\Sublime Text 3\sublime_plugin.py", line 1199, in load_module
exec(compile(source, source_path, 'exec'), mod.dict)
File "C:\Users\gerda\AppData\Roaming\Sublime Text 3\Installed Packages\Package Control.sublime-package\package_control/deps/oscrypto/_win/asymmetric.py", line 26, in
File "", line 1565, in _find_and_load
File "", line 1532, in _find_and_load_unlocked
File "C:\Program Files\Sublime Text 3\sublime_plugin.py", line 1199, in load_module
exec(compile(source, source_path, 'exec'), mod.dict)
File "C:\Users\gerda\AppData\Roaming\Sublime Text 3\Installed Packages\Package Control.sublime-package\package_control/deps/oscrypto/_asymmetric.py", line 27, in
File "", line 1565, in _find_and_load
File "", line 1532, in _find_and_load_unlocked
File "C:\Program Files\Sublime Text 3\sublime_plugin.py", line 1199, in load_module
exec(compile(source, source_path, 'exec'), mod.dict)
File "C:\Users\gerda\AppData\Roaming\Sublime Text 3\Installed Packages\Package Control.sublime-package\package_control/deps/oscrypto/kdf.py", line 9, in
File "", line 1565, in _find_and_load
File "", line 1532, in _find_and_load_unlocked
File "C:\Program Files\Sublime Text 3\sublime_plugin.py", line 1199, in load_module
exec(compile(source, source_path, 'exec'), mod.dict)
File "C:\Users\gerda\AppData\Roaming\Sublime Text 3\Installed Packages\Package Control.sublime-package\package_control/deps/oscrypto/util.py", line 12, in
File "", line 1565, in _find_and_load
File "", line 1532, in _find_and_load_unlocked
File "C:\Program Files\Sublime Text 3\sublime_plugin.py", line 1199, in load_module
exec(compile(source, source_path, 'exec'), mod.dict)
File "C:\Users\gerda\AppData\Roaming\Sublime Text 3\Installed Packages\Package Control.sublime-package\package_control/deps/oscrypto/_win/util.py", line 22, in
File "", line 1565, in _find_and_load
File "", line 1532, in _find_and_load_unlocked
File "C:\Program Files\Sublime Text 3\sublime_plugin.py", line 1199, in load_module
exec(compile(source, source_path, 'exec'), mod.dict)
File "C:\Users\gerda\AppData\Roaming\Sublime Text 3\Installed Packages\Package Control.sublime-package\package_control/deps/oscrypto/_win/_cng.py", line 10, in
File "", line 1565, in _find_and_load
File "", line 1532, in _find_and_load_unlocked
File "C:\Program Files\Sublime Text 3\sublime_plugin.py", line 1199, in load_module
exec(compile(source, source_path, 'exec'), mod.dict)
File "C:\Users\gerda\AppData\Roaming\Sublime Text 3\Installed Packages\Package Control.sublime-package\package_control/deps/oscrypto/_win/_cng_ctypes.py", line 181, in
Package Control.package_control.deps.oscrypto._ffi.FFIEngineError: Error initializing ctypes
reloading plugin Package Control.Package Control
Traceback (most recent call last):
File "C:\Users\gerda\AppData\Roaming\Sublime Text 3\Installed Packages\Package Control.sublime-package\package_control/deps/oscrypto/_win/_cng_ctypes.py", line 143, in
File "./python3.3/ctypes/init.py", line 366, in getattr
File "./python3.3/ctypes/init.py", line 371, in getitem
AttributeError: function 'BCryptDeriveKeyPBKDF2' not found
During handling of the above exception, another exception occurred:
Traceback (most recent call last):
File "C:\Program Files\Sublime Text 3\sublime_plugin.py", line 125, in reload_plugin
m = importlib.import_module(modulename)
File "./python3.3/importlib/init.py", line 90, in import_module
File "", line 1584, in _gcd_import
File "", line 1565, in _find_and_load
File "", line 1532, in _find_and_load_unlocked
File "C:\Program Files\Sublime Text 3\sublime_plugin.py", line 1199, in load_module
exec(compile(source, source_path, 'exec'), mod.dict)
File "C:\Users\gerda\AppData\Roaming\Sublime Text 3\Installed Packages\Package Control.sublime-package\Package Control.py", line 89, in
File "", line 1565, in _find_and_load
File "", line 1532, in _find_and_load_unlocked
File "C:\Program Files\Sublime Text 3\sublime_plugin.py", line 1199, in load_module
exec(compile(source, source_path, 'exec'), mod.dict)
File "C:\Users\gerda\AppData\Roaming\Sublime Text 3\Installed Packages\Package Control.sublime-package\package_control/commands/init.py", line 3, in
File "", line 1565, in _find_and_load
File "", line 1532, in _find_and_load_unlocked
File "C:\Program Files\Sublime Text 3\sublime_plugin.py", line 1199, in load_module
exec(compile(source, source_path, 'exec'), mod.dict)
File "C:\Users\gerda\AppData\Roaming\Sublime Text 3\Installed Packages\Package Control.sublime-package\package_control/commands/advanced_install_package_command.py", line 10, in
File "", line 1565, in _find_and_load
File "", line 1532, in _find_and_load_unlocked
File "C:\Program Files\Sublime Text 3\sublime_plugin.py", line 1199, in load_module
exec(compile(source, source_path, 'exec'), mod.dict)
File "C:\Users\gerda\AppData\Roaming\Sublime Text 3\Installed Packages\Package Control.sublime-package\package_control/package_manager.py", line 34, in
File "", line 1565, in _find_and_load
File "", line 1532, in _find_and_load_unlocked
File "C:\Program Files\Sublime Text 3\sublime_plugin.py", line 1199, in load_module
exec(compile(source, source_path, 'exec'), mod.dict)
File "C:\Users\gerda\AppData\Roaming\Sublime Text 3\Installed Packages\Package Control.sublime-package\package_control/downloaders/init.py", line 20, in
File "", line 1565, in _find_and_load
File "", line 1532, in _find_and_load_unlocked
File "C:\Program Files\Sublime Text 3\sublime_plugin.py", line 1199, in load_module
exec(compile(source, source_path, 'exec'), mod.dict)
File "C:\Users\gerda\AppData\Roaming\Sublime Text 3\Installed Packages\Package Control.sublime-package\package_control/downloaders/oscrypto_downloader.py", line 44, in
File "", line 1565, in _find_and_load
File "", line 1532, in _find_and_load_unlocked
File "C:\Program Files\Sublime Text 3\sublime_plugin.py", line 1199, in load_module
exec(compile(source, source_path, 'exec'), mod.dict)
File "C:\Users\gerda\AppData\Roaming\Sublime Text 3\Installed Packages\Package Control.sublime-package\package_control/deps/oscrypto/tls.py", line 17, in
File "", line 1565, in _find_and_load
File "", line 1532, in _find_and_load_unlocked
File "C:\Program Files\Sublime Text 3\sublime_plugin.py", line 1199, in load_module
exec(compile(source, source_path, 'exec'), mod.dict)
File "C:\Users\gerda\AppData\Roaming\Sublime Text 3\Installed Packages\Package Control.sublime-package\package_control/deps/oscrypto/_win/tls.py", line 54, in
File "", line 1565, in _find_and_load
File "", line 1532, in _find_and_load_unlocked
File "C:\Program Files\Sublime Text 3\sublime_plugin.py", line 1199, in load_module
exec(compile(source, source_path, 'exec'), mod.dict)
File "C:\Users\gerda\AppData\Roaming\Sublime Text 3\Installed Packages\Package Control.sublime-package\package_control/deps/oscrypto/_win/asymmetric.py", line 26, in
File "", line 1565, in _find_and_load
File "", line 1532, in _find_and_load_unlocked
File "C:\Program Files\Sublime Text 3\sublime_plugin.py", line 1199, in load_module
exec(compile(source, source_path, 'exec'), mod.dict)
File "C:\Users\gerda\AppData\Roaming\Sublime Text 3\Installed Packages\Package Control.sublime-package\package_control/deps/oscrypto/_asymmetric.py", line 27, in
File "", line 1565, in _find_and_load
File "", line 1532, in _find_and_load_unlocked
File "C:\Program Files\Sublime Text 3\sublime_plugin.py", line 1199, in load_module
exec(compile(source, source_path, 'exec'), mod.dict)
File "C:\Users\gerda\AppData\Roaming\Sublime Text 3\Installed Packages\Package Control.sublime-package\package_control/deps/oscrypto/kdf.py", line 9, in
File "", line 1565, in _find_and_load
File "", line 1532, in _find_and_load_unlocked
File "C:\Program Files\Sublime Text 3\sublime_plugin.py", line 1199, in load_module
exec(compile(source, source_path, 'exec'), mod.dict)
File "C:\Users\gerda\AppData\Roaming\Sublime Text 3\Installed Packages\Package Control.sublime-package\package_control/deps/oscrypto/util.py", line 12, in
File "", line 1565, in _find_and_load
File "", line 1532, in _find_and_load_unlocked
File "C:\Program Files\Sublime Text 3\sublime_plugin.py", line 1199, in load_module
exec(compile(source, source_path, 'exec'), mod.dict)
File "C:\Users\gerda\AppData\Roaming\Sublime Text 3\Installed Packages\Package Control.sublime-package\package_control/deps/oscrypto/_win/util.py", line 22, in
File "", line 1565, in _find_and_load
File "", line 1532, in _find_and_load_unlocked
File "C:\Program Files\Sublime Text 3\sublime_plugin.py", line 1199, in load_module
exec(compile(source, source_path, 'exec'), mod.dict)
File "C:\Users\gerda\AppData\Roaming\Sublime Text 3\Installed Packages\Package Control.sublime-package\package_control/deps/oscrypto/_win/_cng.py", line 10, in
File "", line 1565, in _find_and_load
File "", line 1532, in _find_and_load_unlocked
File "C:\Program Files\Sublime Text 3\sublime_plugin.py", line 1199, in load_module
exec(compile(source, source_path, 'exec'), mod.dict)
File "C:\Users\gerda\AppData\Roaming\Sublime Text 3\Installed Packages\Package Control.sublime-package\package_control/deps/oscrypto/_win/_cng_ctypes.py", line 181, in
Package Control.package_control.deps.oscrypto._ffi.FFIEngineError: Error initializing ctypes
plugins loaded
Thank you for reading! ( I am sorry if it is to much. I just didn't know what to paste here and what not, so i just pasted everything )